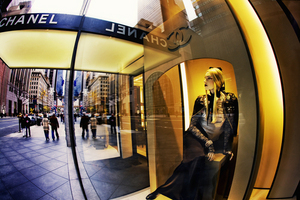 LURE OF LUXURY


Money Power Fashion Sex And Status

Global capitalism is fueled by promises, dreams, abundance and business. Powerful and provocative media and merchandising visuals drive consumption by stirring the deepest human passions, igniting fantasies and motivating aspirations.

I chose to shoot through high-fashion window displays in New York, Paris, London and Berlin to capture the Lure of Luxury on the world's most exciting streets. Street chaos, spontaneous energy and architectural reflections blend in the glass with meticulously styled mannequins.
I photograph the magical theater show that reveals itself, with its unique cast of characters, changing lights and textured shadows, mirrors and layers upon layers of reflections.

The series(2006 - 2014) reflects modern culture, materialism and the global lure of luxury.