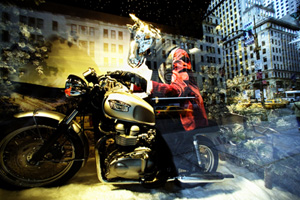 BARRY BATINKOFF
Barry Batinkoff is a New York based professional photographer. He has been enveloped in creating the series
Reflect: The Lure of Luxury
from December 2005 and continues to shoot this project. The initial finished images from this body of work, shot in New York, London, Paris and Berlin are ready for exhibition and sale.
Batinkoff received degrees from Cornell University and Boston University Center for Digital Imaging Arts.
Exhibition Prints- Batinkoff has collaborated with master printer Jonathan Singer of Singer Editions in Boston, Massachusetts. Fine-art prints are produced to order on Crane Silver Rag up to a maximum size of 44" x 66".
Considerations - Images are available for licensing. Commissions to create new work and opportunities to project this work in a large scale environment are invited.
Contact- 518.928.4566, barry@barrybatinkoff.com